MSU Community Music School- Detroit Summer Classes & Camps
MSU Community Music School- Detroit Summer Classes & Camps
Friday, June 2, 2017
Music Options Explode in Midtown
MSU Community Music School- Detroit Summer Classes & Camps
DETROIT, (May 22, 2017) – Kids can get their Detroit music groove on at one of six different
summer camps this June, July and August. Camps and classes for all ages are offered by the MSU Community Music School-Detroit (CMS-D) and the Detroit Institute of Music Education (DIME).
Students can register now by calling (313) 578-9716 or visiting www.cms.msu.edu/detroit. Each music camp costs $200 or less, and tuition assistance is available for families in need by application to CMS-D located at 3408 Woodward Avenue in Midtown
Classes and camps are offered for people of all ages, abilities and incomes.
Additional Summer Classes! (*New Classes)

Beginning, Intermediate & Advanced Group Piano for Adults
Teen Group Piano
Beginning & Intermediate/Advanced Adult Strings
Beginning Guitar for Teens and Adults
Beginning/Intermediate Bass Guitar for Teens & Adults
MSU Detroit Community Beginning Band
MSU Detroit Community Jazz Band
Beginning Jazz Improvisation*
Gospel Choir BOOTCAMP
Behind the Music (Interactive Music Theory Classes for Youth & Adults)*
Bucket Drumming for Youth

*

Students ages 7-17 can learn some cool percussion techniques by using buckets for their drums! This class is taught by Ph.D MSU grad, Dr. Tia Harvey!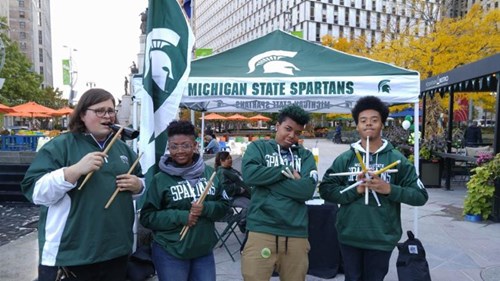 REGISTER NOW!
Paying in full? Some programs and classes are available for online registration
here
.